Hello,
I help to administer a consortial instance of PressBooks that we host ourselves. Right now our catalog has just one book in it, with the subject "Musical Instruments". However, in the catalog itself, the "Filter by Subject" dropdown only contains one subject - "Medicine & Nursing" (despite the fact that we have no books on that subject in our PB instance). "Musical Instruments" does not appear as a subject available to select among the catalog filters.
Here's the catalog showing under "All Subjects" just "Medicine and Nursing" alongside the book information for our only public-facing book (showing the subject "Musical Instruments"):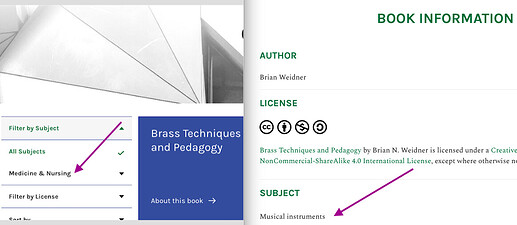 Is there something we need to do to get our Catalog to index the subject information for our book correctly - or perhaps this is a bug - or we're just not understanding how those catalog filters are meant to work? Thanks for any advice!
-Lauren