Longtime Pressbooks authors will notice that we've refreshed the export options for book administrators in the latest release of our software (Pressbooks 5.25.0). The most notable change we made was removing the option to produce MOBI exports directly from Pressbooks. Please note that none of your previously created MOBI exports will be deleted by Pressbooks. This change simply removes the ability to produce new MOBI exports.
Previous export menu: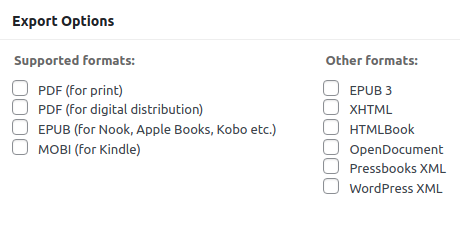 New export menu: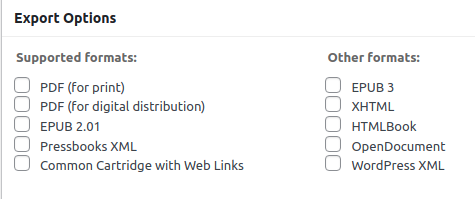 Why Remove MOBI Exports from Pressbooks?
If you missed the previous community post discussing this planned change, the short answer is that Amazon's Kindle Direct Publishing (the last platform which required MOBI files) is ending support for MOBI files. Earlier this year, all KDP users received an email from Amazon which read, in part:
We listened to your feedback and are making it simpler to publish eBooks on Kindle. Starting June 28, 2021, we will no longer support files in MOBI, PRC or AZK formats when publishing new reflowable eBooks or updating the content for previously published eBooks. Instead, we ask publishers to use EPUB, KPF (Kindle Create files), or DOC/DOCX (Microsoft Word files) files for reflowable eBooks.
What are My Ebook Export Options with Pressbooks?
Going forward, our flowable ebook export efforts will focus exclusively on the EPUB format, one of KPD's recommended file formats. We're particularly excited about ending our support of a proprietary, legacy format because it will make it easier for us to improve the way that users create ebooks with Pressbooks. We've already started making plans to improve our existing EPUB export process and are excited to share improvements with you in the months to come.
If you were using Pressbooks to produce MOBI files directly for your own use, you should still be able to convert Pressbooks EPUB exports for sideloading onto your Kindle device using Calibre or Amazon's Kindle Previewer, both of which are free desktop applications.