@brad Let me know if I should put this on GitHub instead.
@rootl can help with updating settings/more troubleshooting
When importing a CNX title, I'm getting an HTTP 500 error. We've updated our import settings and PHP upload settings, but even with single chapter zip files, the importer goes straight to an error screen (no loading/thinking time) on Chrome, and in Firefox I only see a white screen.
We've recently upgraded to the latest versions of both PB and the OpenStax plugin, so was wondering if this was a problem anyone else had experienced. (all current settings are listed below).
Other types of imports work as expected, and I've tried multiple OS titles and files on two different PB book sites and got the same error, both using the upload file option, and the Import from URL option. I don't have access to another version of PB with this plugin installed to see if it is localized to our instance.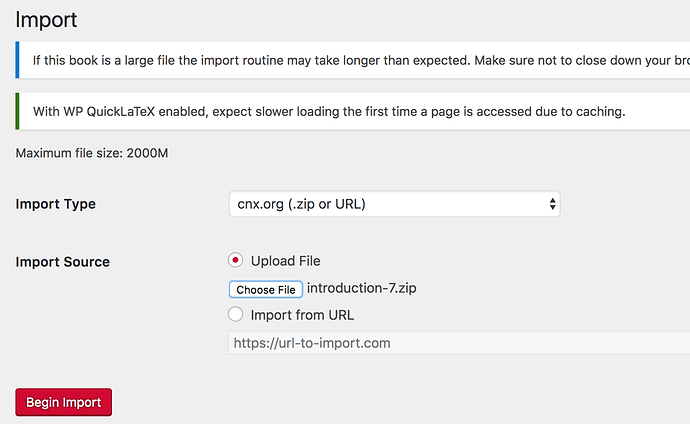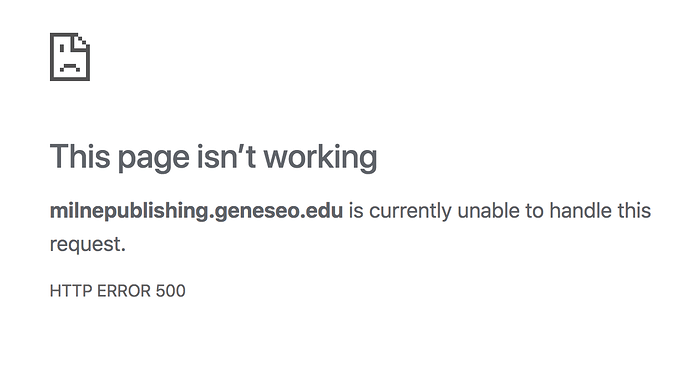 System Information
WordPress Configuration
Network Type: Subdirectory
Version: 5.0.3
Language: en_US
WP_ENV: Not set
WP_DEBUG: Enabled
Memory Limit: 64M
Pressbooks Configuration
Version: 5.6.4
Root Theme: Aldine
Root Theme Version: 1.5.0
Pressbooks Dependencies
Epubcheck: Installed
Kindlegen: Installed
xmllint: Installed
PrinceXML: Installed
Saxon-HE: Installed
Must-Use Plugins
Global SMTP: 1.0
hm-autoloader.php: n/a
WP Multisite Allow Hyphens and Underscores Override Admin: 1.0
WP Pressbooks Allow Prince 300dpi Images: n/a
Network Active Plugins
Candela Citation: 0.2.2
Check Email: 0.5.5
Disable Comments: 1.8.0
Error Log Monitor: 1.6.3
GitHub Updater: 8.6.2
Hypothesis: 0.5.0
iframe: 4.4
Members: 2.1.0
Openstax Import for Pressbooks: 1.3.2
Pressbooks: 5.6.4
Textbooks for Pressbooks: 4.2.3
UpdraftPlus - Backup/Restore: 2.16.4.24
WordPress Mass Email to users: 1.0
WP-Optimize: 2.2.11
WP QuickLaTeX: 3.8.6
Root Blog Active Plugins
Openstax Import for Pressbooks:
Version: 1.3.2
Author: Brad Payne
Last Updated: 3 weeks ago
Requires WordPress Version: 4.9.8 or higher
Compatible up to: 5.0.3
Requires PHP Version: 7.1 or higher
Active Installations: Less Than 10
Candela Citation: 0.2.2
Check Email: 0.5.5
Disable Comments: 1.8.0
Error Log Monitor: 1.6.3
GitHub Updater: 8.6.2
Hypothesis: 0.5.0
iframe: 4.4
Members: 2.1.0
Pressbooks: 5.6.4
Textbooks for Pressbooks: 4.2.3
UpdraftPlus - Backup/Restore: 2.16.4.24
WordPress Mass Email to users: 1.0
WP-Optimize: 2.2.11
WP QuickLaTeX: 3.8.6
Inactive Plugins
Better Search Replace: 1.3.2
Broken Link Checker: 1.11.5
Edit Flow: 0.9
MemcacheD Is Your Friend: 2.0.0
WP-Piwik: 1.0.19
Server Configuration
PHP Version: 7.3.1
MySQL Version: 5.6.42
Webserver Info: Apache/2.4.6 () OpenSSL/1.0.2k-fips PHP/7.3.1
PHP Configuration
Safe Mode: Disabled
Memory Limit: 256M
Upload Max Size: 2000M
Post Max Size: 3000M
Upload Max Filesize: 2000M
Time Limit: 5000
Max Input Vars: 1000
URL-aware fopen: On (1)
Display Errors: N/A
PHP Extensions
OPcache: Zend
XDebug: Disabled
cURL: Supported
cURL Version: 7.29.0
imagick: Not Installed
xsl: Installed